Most Involved Senior Superlative: Matthew Campbell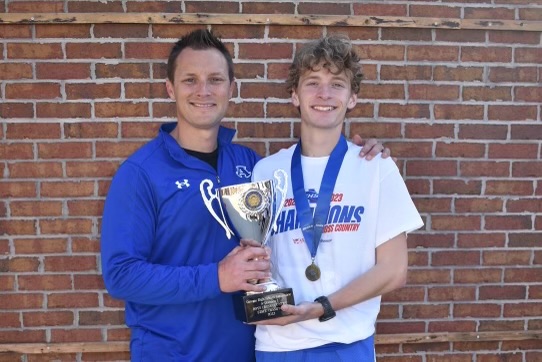 Matthew Campbell received the senior superlative award for Most Involved for this years graduating class of 2023. When asked why he wanted to be most involved Campbell said, "I thought if something was fun or beneficial I would just go out and try it". Campbell has been attending Armuchee schools his entire life. He is involved with Cross Country, Track, Soccer, FBLA, NHS, and four-year president of the class of 2023. Campbell is a very competitive athlete. He has won two state championships, a state competitor in the 4×400 relay, 1600m, and the 400m. He has also competed in the state soccer championship for all his high school careers.
Campbell said that he is very inspired by Mrs Flagello. He said, "She has inspired as a teacher, a mentor, and a guiding presence in the P.B.I.S. commander." Campbell adores the Armuchee community as a whole and said, "I love how everybody is so involved. You always have friends anywhere you go, and everyone knows each other because we are like a family." Campbell takes all honors, AP, and dual enrollment classes. He tries very hard in school and pushes himself. When asked what was the most challenging part of high school, Campbell said, "Is at first finding where you belong, and second staying there and staying on top of things. Whether that's extracurriculars or your social life or your academics."
With Matthew being very active, it only makes sense for him to have a high ranking in his class. He is ranked 3rd in his class overall. When asked "what was the class that helped him the most?" He said, "I think chemistry helped me the most because it was the first class that taught me how to not be good at something. Because it was not very easy for me, I had to study and work harder than all my other classes." Like the old saying with age comes wisdom, Campbell is a senior, who recently turned 18 years old. Campbell's advice for underclassmen is, "do not be afraid to try things, get involved. The worst thing that can happen is you do not like it then you just move on to the next thing. My second piece of advice is to enjoy the little moments, do not forget them!" Being as successful as Mr. Campbell, you would expect future plans after high school. Campbell's plans are to  attend Mercer, major in biology and go to med school. As a school we are very proud of Matthew and all of his accomplishments and look forward to seeing him succeed.