Student Spotlight: Cameron Espy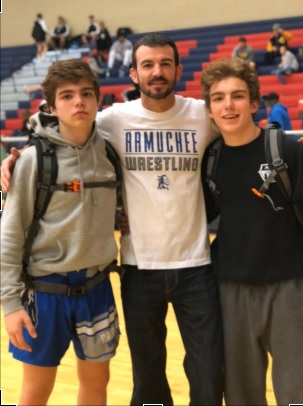 Cameron Espy, a senior at AHS, placed 3rd in the State Wrestling competition. He has been a part of the AHS wrestling team for three years and plans on returning again this year. Cameron decided to start wrestling in third grade.  "It was something most of my family did, and I enjoyed it, and I was pretty good at it." However, he did take a year off in sixth grade. But during seventh grade, Coach Conley convinced Cameron to wrestle again, as he saw the potential of a state wrestler.
During his sophomore year, Cameron placed third at state in the 106lb weight class. During his Junior year, he placed third at state in the 120lb weight class. "Regarding practice, you get what you put out, so if you want to be good you have to do the work to be where you want to be," responded Cameron. In 2019, Cameron planned on working hard at every practice and taking every opportunity to get better. Fortunately Cameron succeeded, wrapping up the 2019 year with a record of 41 wins to 7 losses.He is hoping to return to the state championships and place again. 
Cameron has been a dedicated, hard worker every season. "Cameron is a very hardworking kid. He will do anything to get better and improve, not just physically but mentally, too," said his former coach, Coach Harris. But Coach Harris isn't the only one who thinks that way. Cameron's teammate, JJ House, also had good things to say. "He is so talented. Whenever we are in the wrestling room he is always going hard and giving his all, and it shows through his accolades," is how JJ explains it.
Not only is Cameron a great wrestler, but he is also a great student. He has managed to keep his grades high and is currently taking dual enrollment classes while at AHS. Having to complete work from classes and wrestling can be a challenge, but Cameron is a very determined wrestler who strives to exceed at everything. Without good grades, he would not be able to wrestle and be a role model for others.
When in the wrestling room, Cameron is a role model for the other wrestlers in the room. While practicing he will encourage everyone, demonstrate certain moves being taught, and also help lead the conditioning at the end of practice. He doesn't just work for himself, but he works for others, too. Cameron will work with other wrestlers to help them understand certain things they can not figure out, and while doing this he is helping himself by getting extra practice in.
Before wrestling starts each season, Cameron stays in shape by running cross country. He doesn't want to walk into practice the first day and not have proper conditioning for it. Not only does he run cross country, but he also gets in extra practice when he can with other coaches or groups. Recently, he has been training with Coach Broome to stay refreshed on wrestling moves and techniques. He will also train during the summer going to practices and wrestling camps. "I am not the biggest, I am not the strongest, but I sure am the toughest," is the quote that inspires Cameron. He cannot wait to get back on the mat for his final year with the tribe!