Student Spotlights: Will Miller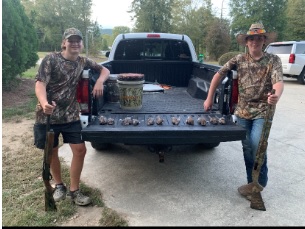 The halls of Armuchee High School swarm with interesting people with interesting hobbies. Will Miller, a junior at Armuchee High School has a very special hobby, dove hunting. Miller spends his weekends and after school hours in the "honey hole" as he calls it. It's called the honey hole because, "that's where all the doves are at," according to Miller. Miller said, "The most important part of a hunt is preparing for the hunt and having the necessary tools in order to have a successful hunt." Will likes to use his favorite shotgun, a Remington 1187 semi auto 12 gauge, while hunting. The preparation for the hunt includes laying out decoys and "preparing the field". A decoy is a plastic replica of an animal. In this case, the decoys are doves. They're used to attract the doves closer to the hunter in order to get a better shot. Preparing the field also includes laying out corn and other baits. Another thing you do to prepare for a hunt is make sure your weapon is lined up properly in order to gain the most accuracy. Miller stated "A dove is a small animal and it requires great accuracy to hit your shots." The attire he prefers while dove hunting is a simple, camouflage t-shirt and his Pit Viper™ sunglasses. 
Miller's favorite person to dove hunt with is his good friend Connor Spriggs. Will said, "Spriggs can make anything fun, so when you add him to something like dove hunting, that's already fun, you can really have a good time." The bonds that can be created through hunting are like no other according to Miller. Will also said, another reason for his passion of dove hunting is the fast pace and constant action that occurs while on a hunt. "It gives me goosebumps just thinking about it," said Miller. The emotions that he experiences while dove hunting are a mixture of joy, excitement, and even disappointment. Dove is not the only animal he hunts, Will also enjoys hunting deer and pheasant. But, he prefers doves over any other animal because of the constant action that occurs on a dove hunt. 
Miller also commented on the uses and benefits of a dove after it is killed. "They're pretty killer when you wrap them in bacon. They also work well when you're training a puppy to retrieve," stated Will. His all time favorite memory from dove hunting is when his entire field was searched by the DNR (Department of Natural Resources) for illegal baiting. When asked if he could dove hunt anywhere where would it be Will simply said, "Argentina!" When asked why, he stated, "Go look up dove hunts in Argentina and you will see why." Miller prides himself on his ability to be a safe and successful dove hunter. According to him, "Safety is the number one rule while in the field." Miller believes everyone should go on a dove hunt every once and awhile. He said, "That is as long as they don't get near my honey hole."