High School Leadership Rome 2021
Each year, a handful of students from Armuchee High take part in a program known as Leadership Rome. This year, juniors Kaitlyn Cowan, Makayla Downs, Gavin Outler, and Krishna Patel and sophomore Matthew Cambell are a part of this program. Matthew Campbell (sophomore) said, "High School Leadership Rome is a program for  students to learn about their community and the leadership roles surrounding them." Leadership Rome's purpose is to teach students about the importance of servant leadership, to help form bonds between leaders from various schools, to discover the diverse career opportunities in Rome, and to meet and learn from business leaders throughout the community. 
This year, Covid has caused some major changes to Leadership Rome. Rather than traveling around the city touring different businesses, the majority of sessions have been spent virtually or in a meeting room. Out of the five sessions we have already completed (Quality of Life Session, Communications and Media Session, Transportation & Industry Session, Economic Development Session, and Healthcare Session), Makayla Downs (junior) said, "The Economic Development Session was my favorite because we got to walk around outside and hear from different speakers about our local environment."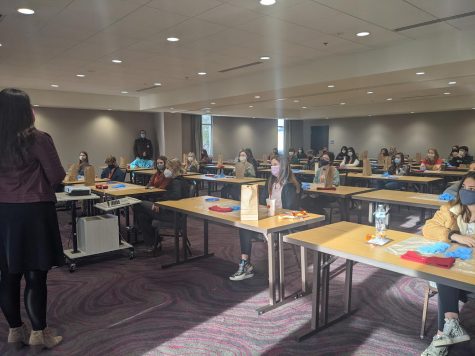 High School Leadership Rome is full of benefits for the students that apply. There's the obvious benefit of growing in Leadership opportunities, however, there are any more you may not immediately think about. Makayla Downs said,"If a student is looking for something to add to their college resumé, Leadership Rome helps make them stand out."
Taking part in the program also helps students become more aware of opportunities in their community and helps them form ties with students from other schools. Many students have said that their favorite part about Leadership Rome being able to meet new people and socialize with friends from other schools.
High School Leadership Rome can greatly strengthen a student's character and knowledge of their community. It can also teach students to be leaders in their community. These strengths can greatly benefit students in later career fields and opportunities. If you're a high school student looking for something to help you grow, Leadership Rome is the best option for you. Rising sophomores and juniors from the high schools in Rome can apply to this program as long as they have a GPA of 2.5 or higher.