Cross Country Makes State 2018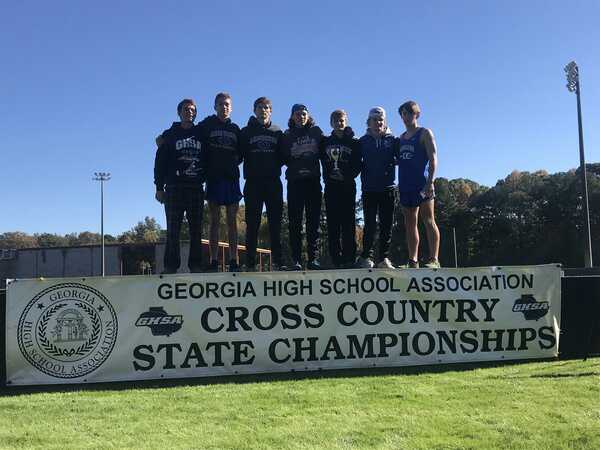 5
4
On November 3rd, 2018 the AHS cross country team went to the state meet at Carrollton. This year the boys team made 2nd place and the girls team made 3rd place. Last year the cross country team made it to state as well, with the boys team making 2nd place and the girls team making 4th place.
To prepare for state, the coach of the cross country team and teacher at AHS, Coach Pierce said, "I try to get them feeling really confident in themselves, because when once they're confident they have more energy and they perform better." They also practiced every day, training for hills and endurance, even during Fall break to be prepared for state. Cross country member Senior, Kayla Hutcherson said, "I started adding more and more miles to my workouts during the summer so that I could start the season in shape and fully prepared to excel throughout the season." Sophomore Chloe Purdy said, "I was excited but nervous at the same time."  Hutcherson said, "I was really excited to go to state because I knew we had a good chance of getting on the podium." Sophomore Mason Daniel said, "I was excited to go to state, but not surprised, I had a feeling we were going to make it to state when the season started. The team has grown a lot in size and speed since last year and there is a lot of potential in all of the newcomers."
The course went through Carrollton High School, Carrollton Middle School, and Carrollton Elementary School. Daniel said, "There were many hills during the course, which we were overly prepared for, and the overall race lasted about forty five minutes."
The cross country team has thirty members, eighteen of which are on the boys team, and twelve of which are on the girls team. The Freshmen are: Chloe Hakala, Emma Harrell, Chloe Nance, and Daylan Pratt. The Sophomores on the team are: Mason Daniel, Darby Hopper, Chloe Purdy, Jack Rush, Darrell Trejo, and Davis Yeargen. The Juniors on the team are: Wesley Conley, Hannah Dellis, Blake Dunagan, Cameron Espy, Blake Montgomery, Alex Mutchler, and Alexander Stevens. The seniors on the team are: Brooke Dellis, Patrick Dupree, Anna Fitzpatrick, Blaine Fox, Taylor Harris, Chaney Holder, Kayla Hutcherson, Alex Lyle, Hunter Mathis, Zack Mann, Sadie Medkie, Madison Smith and Humberto Solis.