Volleyball Team Goes to the 1st Round of State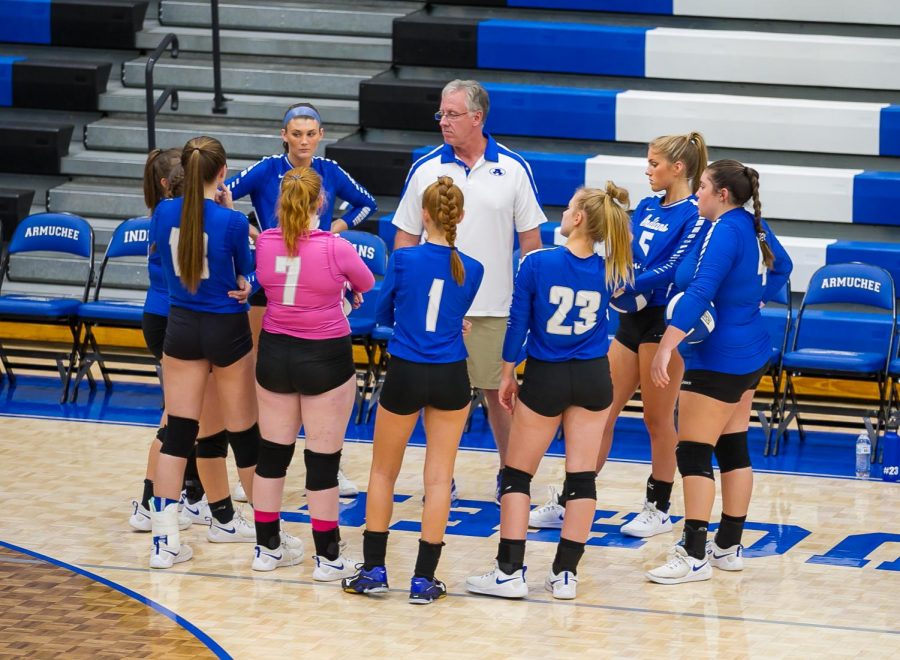 AHS Volleyball team advanced to the first round of the State Tournament where they played Rabun County on October 19th. Armuchee girls lost, ending their season. Concentration and accuracy are involved in this sport. Volleyball is a well-known sport that is played by many different people. The coach, Mrs. Yandell, is very proud of the girls after practice. Two years ago, Mrs. Yandell started to coach volleyball. She confirmed, "I liked the sport. It was exciting and it is a very 'high energy sport.'" Coach Yandell also coached tennis for twenty years, and she played tennis herself. Coach Yandell is looking forward to beating Model because Armuchee and Model have always been rivals.
On July 1st, there was an open-gym at the high school. All of the volleyball players came to the gym and practiced all day. Volleyball players attended a camp during July. When the team was in the middle of the game, Coach Yandell wanted them to hustle, and they shouldn't stop. The Volleyball players have worked hard every day at practice.
One Freshman, Sydney Hood likes to do a lot of practicing before volleyball season starts. She mentioned, "The team gets along very well because we all have a part and if we are not getting along, then we won't be able to play as a team." Sydney plays back row, and she has been playing volleyball for two years. Sydney described volleyball as being powerful.
During practice the Coach and the players all like to give out some encouragement because certain players need to be reminded to keep going or to keep trying because when a player gets tired, then they want to quit and they can't quit in the middle of a game or else they will lose.
Katie Leonard, Junior, articulated, "I am looking forward to beating Calhoun." She described volleyball being spontaneous. Katie has been playing volleyball for 5 years and she also plays golf. Katie plays right side hitter.
Kyleigh Powell, Freshman, has been playing volleyball for three years now. She enjoys practicing at school because the coach and other players encourage her to keep trying and to never give up. Aubrie Cordle, Freshman, has also been playing volleyball for three years. She likes volleyball mainly because of all of the people that are on the team because they are nice and show respect. Aubrie likes to practice volleyball a lot because she confirmed, "I just want to get better every day and one way to get better is to practice hard and also not to stop."