Helping Hands, Helping Hearts: Key Club 2020-21
Key Club, a volunteer organization at AHS, has started this school year (2020/2021) differently than it has in previous years. The supervisors, along with the leadership team, have made several changes due to Covid-19. Normally Key Club has a Kick Off meeting full of fun activities for everyone to meet each other. This has been postponed to October rather than August to make sure Covid-19 policies are followed.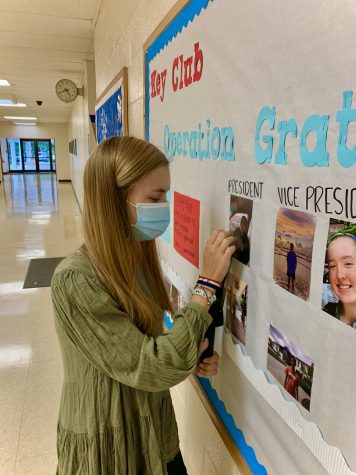 Peyton Alford, AHS junior and member of the Key Club leadership team, said, "Getting to know my fellow students and serving my community with them is my favorite part of Key Club." Peyton Alford wasn't a part of any school clubs or groups her freshman year and wanted a positive outlet in which to get involved. Peyton said, "Key Club has made me even more willing to serve my community."
As the Key Club Vice-President, I can say that Key Club has made me desire volunteering. I have grown to love to help people throughout my community and see the smiles on their faces. One of my favorite events I have volunteered at was the Berry-Half Marathon at Berry College back in March 2020 before Corona-19 quarantines were in place. I helped pass out medals as the runners crossed the finish line. The cheers from the runners' friends and family mixed with their faces of joy as they accomplished the grueling 13 miles was awesome to witness.
Mrs. Emily Mowery, AHS Key Club advisor and English teacher, said, " My favorite part about Key Club is getting to know students outside of class. No grades are involved, just community service." Mrs. Mowery doesn't work alone in organizing Key Club's events and projects; she has the help of co-advisor and English teacher, Mrs. Leah Byrnes as well as the help from Key Club's leadership team. Mrs. Mowery said, "This year's officer team rocks! They've already done so much behind the scenes work." According to Mrs. Mowery, Key Club's purpose is to volunteer. We do this locally in our school and throughout our community, nationally with 'Operation Gratitude,' and globally with 'Trick or Treat for Unicef'."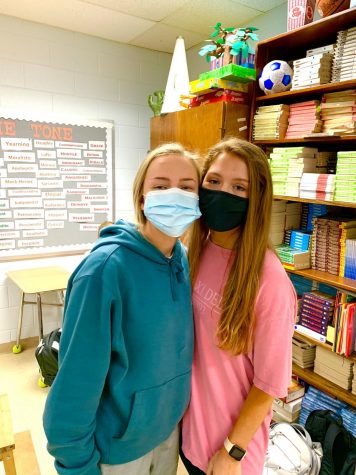 Key Club's most recent project is something very special- Operation Gratitude. Members wrote letters to soldiers thanking them for their service and making them feel appreciated. In the letters, members are talking about their lives in high school such as what extracurricular activities they're involved in and what they like to do in addition to thanking them for all that they do for our country. When asked about her favorite freedoms, student Emily Tomlin, AHS junior, said, "Freedom to believe in whatever religion I choose is important to me." Annelise Brock, AHS sophomore, said, "My most valuable freedom is the ability to make my own decisions and be independent."
Key Club is both service oriented and fun. We have formed big assembly lines for 'Brighter Birthdays' to pack goody bags full of birthday-themed items for students in the area who might not have a birthday party due to financial reasons or other reasons. Founder, Cristen Warden, appreciates the Armuchee Key Club's help and hopes to have their help again this school year.
Another really fun event is Tribefest. Key Club sets up a giant inflatable slide each year that we let kids play on. But it's not just fun for the kids- Key Club members have always enjoyed the inflatables too! Sydney Pledger, AHS senior and president of Key Club, said "My favorite event is Tribefest because I love to watch the kids come down the inflatables." Sydney Pledger, Key Club President, said, "Key Club is a great, easy way to earn service hours and help our community. It also looks amazing on college applications because it is a recognized international organization." Key Club is a very easy way to earn service hours because it provides so many opportunities to volunteer.