A Sweet Thank You: Key Club's November Baking Event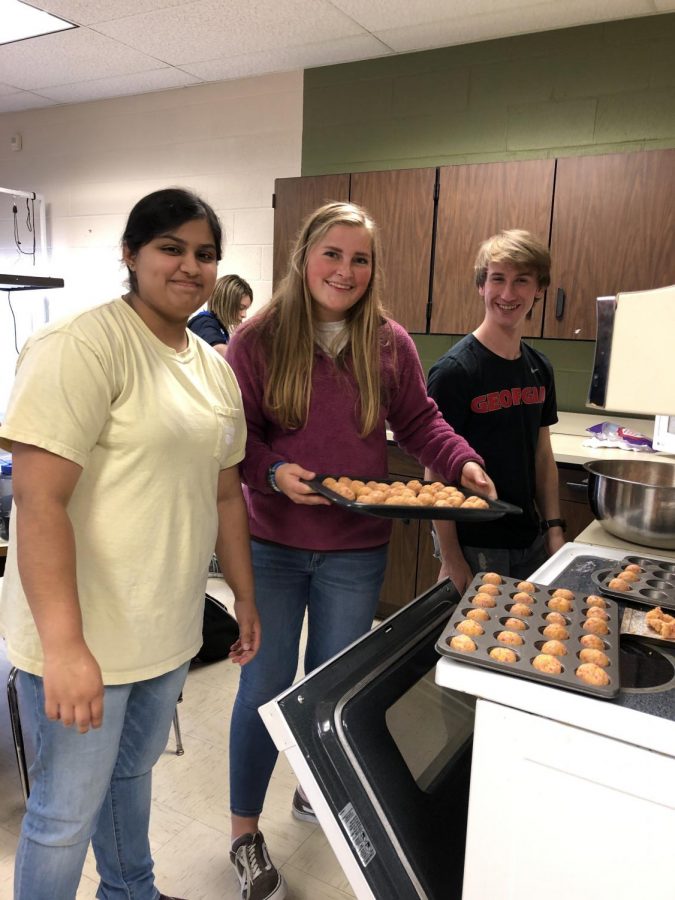 For the past nine years, Key Club members have baked for firefighters. The event began in 2010 and was inspired by a Key Club officer Maddie Stansell, who wanted to thank the firefighters for their dedication and hard work. When she offered the idea, it was nearly November; in the spirit of the upcoming holiday, Thanksgiving, the project began. 
In 2019, this event landed on November 20th. Students gathered in Mrs. Henderson's classroom (Food Lab) as soon as school ended. Within ten minutes, over 20 Key Club members were hard at work to make a sweet gift for the firefighters. Originally, the event was an independent project allowing students to bake at home; however, in the past two years, Mrs. Henderson has generously offered her classroom for the club's use. 
Those in attendance made a large variety of treats ranging from sweet potato casserole to sausage balls, to cookies and brownies. Some students baked cakes, and others made numbers of dessert type loaves of bread. Ingredients and boxed mixes available were brought in by advisor, Mrs. Mowery and several members of the Key Club. Most of the baking was left to the students, though supervisors would step in to help if needed, "I just supervise. The students are much better bakers than I am," said Mowery. The event lasted for an hour and fifteen minutes. After it ended, eligible members, and advisors, made the trip to deliver the treats to the firefighters. 
One of the many students to attend the event was Emma Harrel, who joined Key Club in her freshman year. Her goal was to gain community service hours and to become involved in the community. She attended the baking event to gain hours and help serve a great cause. While at the event, she worked alongside Gavin Outler and Sydney Pledger; their group baked both cookies and brownies. Harrel enjoyed the experience and would like to participate again, "It's fun to work with my friends and do it all for a good cause," said Harrell. 
Gavin Outler attended the event for the first time in his freshman year. While he initially wanted to gain service hours,  he also found himself enjoying it. Outler originally joined Key Club so he would be able to have more opportunities to volunteer for community service. Outler, like Harrell, enjoyed the event, "I got to help my community while having a ton of fun baking with my friends," said Outler.