Kaylin Coffman is Praised by Noon Optimist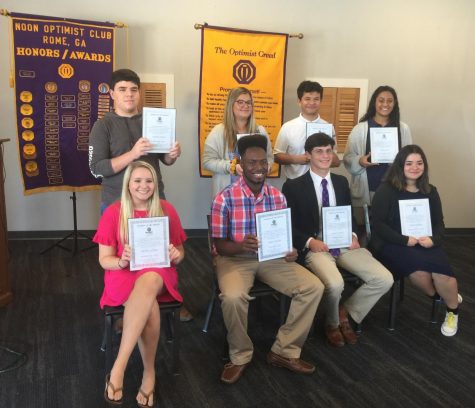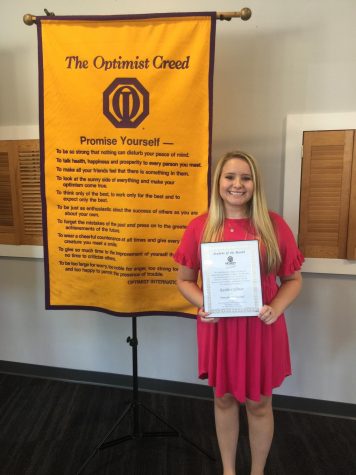 In August, senior, Kaylin Coffman was selected from Armuchee High School, along with others from around the county by the Rome Noon Optimist Club. Each month they select students from Rome, and Floyd County Schools, to be awarded and praised for their leadership skills, academic performance, and their contribution to the community. The Rome Noon Optimist Club is founded upon bringing out the best in kids and helping out the community.   
The Noon Optimist award to Kaylin, means feeling successful. "It made me feel like my hard work was paying off. I felt like my work was being noticed and it made my family proud," said Coffman. When a student is awarded, you have to present a speech. Coffman's speech was about all of her involvements in and outside of AHS, for example, football and basketball cheer, NHS, FCA, FBLA, and the Youth leadership team at her church. "During my speech I mostly focused on my thyroid surgery that took place my junior year. It was a big obstacle to overcome, and it was challenging to continue to keep my grades up," said Coffman. 
For highschoolers, or at any age it is hard to stay positive at times. The thing that motivates Coffman the most, is her family. "They push me to be successful. I know that I have to stay positive because if I don't, it will be harder to succeed, and I don't want to disappoint my family," said Coffman. Kaylin is an inspiration not only to her family but to her classmates, as well. She has shown us that we can overcome any challenge we're given and we can even succeed from it.