Boys and Girls Varsity Soccer 2019 Season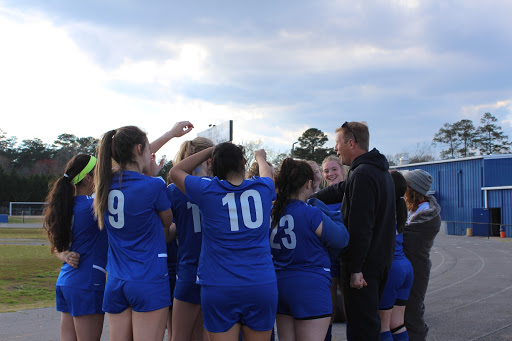 Gianna Conti, Staff Writer
April 23, 2019
Armuchee High school's girls and boys soccer teams are very excited for this season. They had their first game on Monday, January 28, against Georgia-Cumberland Academy. The girls had a great game winning 6-0, but the boys were not as lucky losing the game 1-4. It was a minor setback for the boys but they plan on coming back and showing the potential they really have.
Both teams have been working very hard during practice so they can be successful during games. The girls have been working a lot on footwork and plays, while the boys mostly work on just plays. Junior AnnTyler Eads said, "A typical practice is quick and full of energy. We work as hard as we can in order to perform the way we do during games." This year both teams have many freshman and some inexperienced players, but they do not think that will slow them down in any way.
Both teams expect to see high numbers on the scoreboard, and have a goal of making it to state. "I think the girls have a good chance if we work hard enough as a whole team", said freshman, Aubrey Rogers. The boys have just as good a chance as any other team; "Not only are we good individual players, but we work extremely well as a team.", said Jesse Hernandez, freshman.
Both teams have only played three region games, and have many to go, but they should not be nervous to play any of them. Not only do the players prepare during practice, but some choose to train on their own. Emily Woolsey and Humberto Solis say that they sometimes run together outside of practice. Players on both teams work together to discipline each other, because they find it important that both teams are successful and not just one of them.
This season will be full of many successes and exciting moments, but it will also be serious for the players. "This year, just like every year is important. We plan on showing up and giving our all with no exceptions."said Aidan Echanique, freshman. Armuchee soccer players are ready to show what they can do; the players are confident that fans and coaches will definitely be pleased this season.