TeePee Store: Managed by Students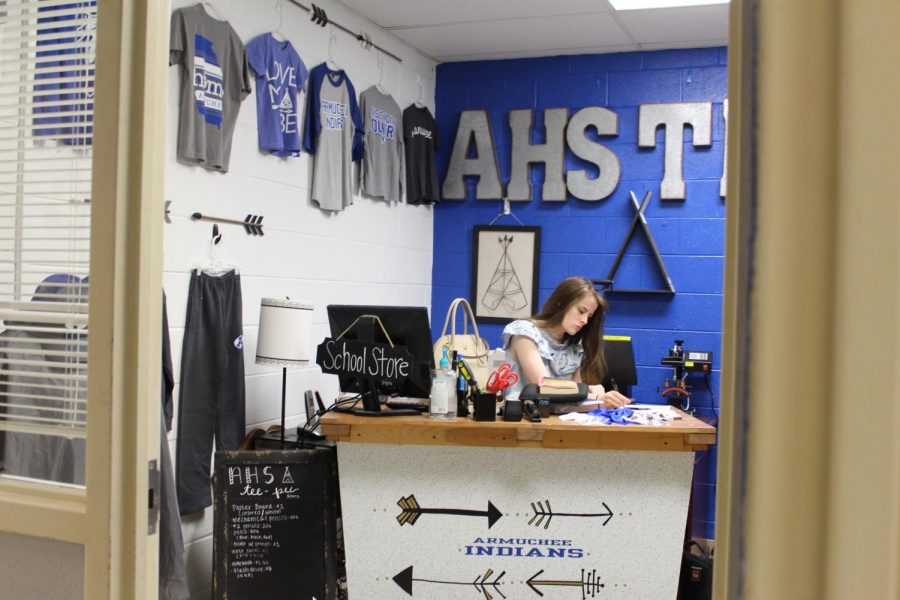 The TeePee store is our community's school store and it is located and operated by students  through Michelle Arp's Entrepreneurship class at Armuchee High School. The TeePee store is very student involved. For each period there is a Work-Based Learning student who operates the school store. Those students are Kaylin Coffman, Olivia Crumby, Maura Duke, Taylor Harris, Adam Hart, Haley Mathis, and Audrey Young. When students work in the TeePee they get the opportunity to experience what it would be like to have their own apparel business.
Not only do students run the TeePee store, but they also help to come up with designs for it. The designs are created as a collaboration of students interns and business department students. Arp said "When creating designs we consider those that promote Armuchee spirit throughout the community. The designs have to be gender and age neutral. We also don't put a specific school, just Armuchee Tribe colors and logos." The business department starts searching for new designs in the spring and summer of each year, then finalizes all of the designs in August when a new Entrepreneurship class has added their input.
Having the TeePee store is a great privilege. Arp said "I enjoy having the TeePee. It's fun working with students to have a business venture here on campus." It started eleven years ago through Arp's Entrepreneurship class following the Georgia Standards to operate a school based enterprise. With all of the positive aspects to it, the TeePee store has some obstacles to face as well. One obstacle due to a county policy is that we can't allow online orders, but because of that obstacle there will be new flyers promoting the TeePee store.
The school store makes considerable contributions to the school environment that come from the TeePee store though. Arp said "We have been very blessed with participation so far from all schools. This past year we were able to offer three student scholarships, donate to students in need, sponsor leadership trips, and order spirit banners that will be put up in four community schools." If families or students want to support the school store, see Coach Michelle Arp, or the front office.